If you've ever registered with a dating service, you've probably noticed that there are some real users out there, fake profiles. Too many fake profiles.
The sole purpose of these fake profiles is to to earn your trust, at some point or another, with the help of a well-executed scenario, ask you for money.
There's a category of dating services that do nothing about fake profiles because it helps them boost their membership numbers...
Another category, like us, we fight these false profiles on a daily basis.
We have no interest in fake profiles on our platform for 3 reasons:
they damage the image of our dating platform;
they cost us money in mailings;
they don't make us any money, since they don't click on our ads.
How we combat fake profiles
First of all, all new members registering on our platform must fill in at least two different photos. This allows us to check for similarities between two faces.
We then analyze the content of the ad, the username, the email address... certain points may seem suspicious.
Finally, we recently blocked certain countries where the majority of fake profiles come from.
How you can help
Unfortunately, our actions don't always filter out 100 % from the fake profiles that sign up. That's where we need your help!
You can report profiles that look suspicious because of their photos, their ad or because they've been in contact with you.
To do this, on both the website and the app, click on More options and Denounce a user. You can specify a reason.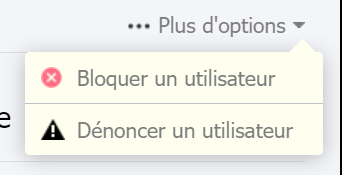 All reported profiles will be checked and, if confirmed as false, deleted.
We would like to sincerely thank all 1tense members who already do this on a regular basis. You help us make our dating platform safe.
Thank you!